Don't Settle For Grey Concrete and Dull Pavers
Stamped Concrete simulates slate, natural stone, cobblestone, brick, and even wood planks. We offer a wide array of patterns and colors that are fully personalized to meet your décor requirements; allowing you to create that one-of-a-kind look you've always envisioned. Whether it is for your patio, sidewalk, driveway, pool deck or interior flooring, we will deliver an outstanding product to be admired for years to come.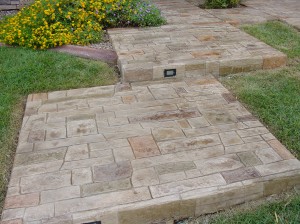 Here are a few benefits of stamped concrete:
Endurance- Concrete lasts longer, is more durable, withstands almost any environment and resists against traffic and wear.
Minimal Maintenance- Stamped concrete requires little to no maintenance which adds up to big savings over it's lifetime
Curb appeal- With it's beautiful aesthetic value, you can proudly show off your investment or add resale value to your property Your options are endless with the availability of colors, patterns and performance.