Our priority focuses on quality execution with concentration on design details, project management, and client communication. Please take a look at the services Color Surface provides.
Diamond Polished Concrete
Polishing concrete is not just an art, it's a science and it is one that we at Color Surface have perfected. Long appreciated for its endurance and cost-effectiveness, concrete can now be appreciated for its beauty. To create this exceptional concrete flooring surface, our process begins by hardening, or densifying, the concrete. We then grind, hone and polish the floor to highlight its natural beauty. In addition to it's attractiveness, polished concrete has many other benefits: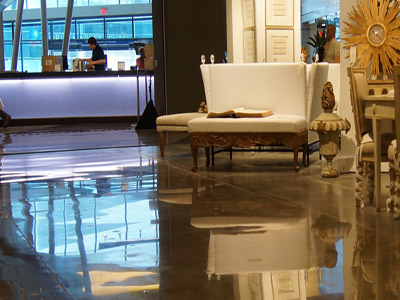 Low Maintenance-Polished concrete floors are tightly compacted; this eliminates dusting, reduces staining and cuts out the waxing and stripping.
Durability- Concrete flooring does not peel or flake. It does not require wax or coatings. Its durability resists wear, saving you money.
Eco-friendly- Polished concrete scores very high in LEED developments.
Options- Whether you want a matte-finish, high-gloss or anywhere in between, polished concrete gives you many options for your flooring preferences; including color, aggregate level and decorative options.
Cost-efficient- Not only is your initial investment less expensive, but your cost over the life of your is significantly less than alternate flooring options.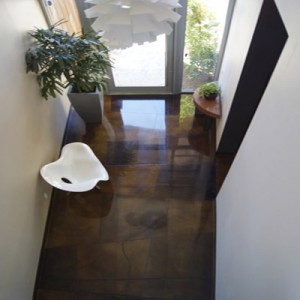 Do you desire a beautiful, unique look for your floor? Whether you own a home that needs a stunning entryway or business with your logo imprinted, acid stained floors are a beautiful alternative to other flooring types.
So what exactly is an acid stain?
Acid staining is not paint or a coating agent; rather it is a coloring process. This process involves a chemical reaction on cementitous material. A solution made with water, acid and inorganic salts, reacts with minerals already present in the concrete, resulting in exquisite color. It works very well on new or old concrete, and we have seen impressive results over decorative polymer overlays as well as self-leveling products. Acid stain is a very durable product if properly protected with sealer or wax and may be applied to both interiors and exteriors.
What makes acid stain so attractive?
Acid stain gives concrete a mottled, variegated, marbled-like look. It creates beautiful colors on concrete, mostly earthy brown tones, reddish-browns and greens. You can also create your own shades by mixing and matching available colors, or applying them at different rates. Never expect acid stain to be uniform or even in tone, you'll get different reactions from slab to slab, and even on the same job you may see contrasting coloration patterns. Cleaning is simple with acid stain floors, only a damp mop is required!
Stamped Concrete simulates slate, natural stone, cobblestone, brick, and even wood planks. We offer a wide array of patterns and colors that are fully personalized to meet your décor requirements; allowing you to create that one-of-a-kind look you've always envisioned. Whether it is for your patio, sidewalk, driveway, pool deck or interior flooring, we will deliver an outstanding product to be admired for years to come.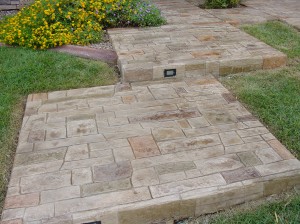 Endurance- Concrete lasts longer, is more durable, withstands almost any environment and resists against traffic and wear.
Minimal Maintenance- Stamped concrete requires little to no maintenance which adds up to big savings over it's lifetime
Curb appeal- With it's beautiful aesthetic value, you can proudly show off your investment or add resale value to your property Your options are endless with the availability of colors, patterns and performance.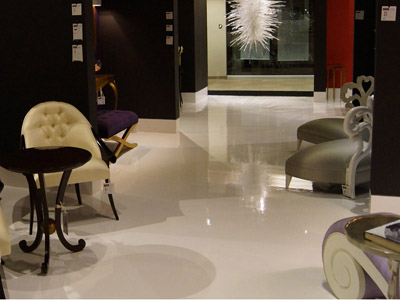 How do we do it?
The Color Surface Epoxy surface is made from industrial grade components applied in a four-layer system. Before any surface can be applied, a rigorous treatment of prep work takes place. The concrete must be free of debris of any kind including oil, dirt, sealers, loose concrete and any type of bond breaker. Once the surface is clean, it is then washed in a Muriatic solution in order to etch open the pores of the concrete surface. This process allows the primer to seep into those pores, thus creating the best possible bond between the concrete slab and the epoxy system. When the cleaning is complete, four layers are then applied; primer coat, base (color) coat, then two coats of high performance polyurethane. The polyurethane gives the system stain resistance as well as helping to maintain its new appearance. Oil, dirt and most common debris can be wiped away with no staining to the surface. Your result? A beautiful floor made to last.
In  construction, an epoxy coating may be used for decorative flooring and high performance applications in heavy vehicle and foot traffic areas and any area which requires high aesthetics. Epoxy flooring will give you a beautiful floor made to last with little to no maintenance.